Speed Control Added to 38th Street Hill
Filed under "News"
More articles »
---
Wednesday, September 28, 2022
Work continues to add speed control features to 38th Street in Beaverdale, adjacent to Ashby Park. Neighbors along the street had raised concerns about vehicles speeding down the hills between Douglas and Adams Avenues.
The city has installed a speed table near the entrance to the park. The speed table has a flat top, and is painted with arrows. It also serves as a crosswalk to the park sidewalk. Then rise is surprisingly low. City Traffic Engineer John Davis says the speed table is only about 3-1/2 inches high and is designed to allow vehicles to maintain the posted speed limit without slowing down.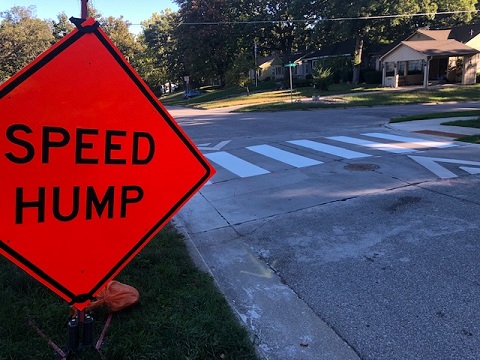 Speed table on 38th Street near Davisson Road, September 28, 2022
Farther north, the city has installed a speed hump made of blacktop. It doesn't have the flat top but also rises only about 3-1/2 inches above the roadway. City Traffic Engineer Davis says it's the same size as those installed elsewhere in the city. He says both the speed hump and speed table have proven effective in Des Moines and in national studies.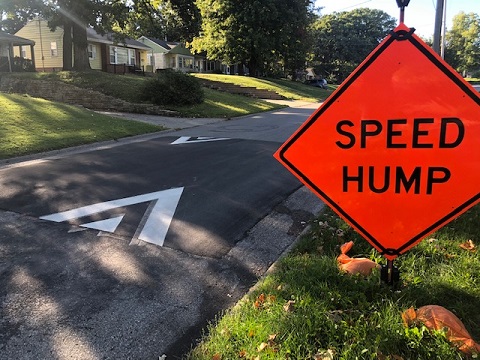 Blacktop speed hump on 38th Street - September 28, 2022
Both installations are only on the downhill from Adams Avenue heading north. As for the other hill running from Douglas Avenue south to the bottom of the hill at Amick, there are no plans to add a speed control device. Davis says "During the planning and public input phases it was proposed moving on-street parking from the east side to west side, north of Ovid. The intent was to create friction and visual cues for those leaving Douglas (high speed and volume) and going down the hill on 38th (lower speed, local street). Responses from neighbors in this area had this element removed from the proposed design."
Davis also says a sidewalk is being added on the west side of the street from Douglas to the bottom of the hill to get people walking to and from Ashby Park out of the street.
He adds that a 3-part chicane will be added near the bottom of the hill. A chicane narrows the road and adds curves that will force traffic to slow down.
---
---
Leave Your Comments
We welcome your comments. Please leave your ideas and opinions below.