Beaverdale Neighborhood Watch
Neighborhood Watch
Interested in starting a Neighborhood Watch for your block or street? What is a Neighborhood Watch or How do you form a Neighborhood Watch? Review the neighborhood watch guide below. Beaverdale has it's own Facebook Group dedicated to Neighborhood Watch Block Captains. Block Captains are individuals that organize a Neighborhood Watch for their block or street. They are responsible for communicating with their neighbors to promote safety and community. If you are interested in becoming a Block Captain, the Facebook Group can be found here: https://www.facebook.com/groups/720853734774347
A successful Neighborhood Watch REQUIRES ongoing active participation of neighbors. The BNA along with the Des Moines Police are here to help but it is up to YOU and your neighbors to make it work.
NBSD Officer Trudy Paulson
Senior Officer Trudy Paulson is our Neighborhood Based Service Delivery (NBSD) Officer with the Des Moines Police Department. She assists with community policing and Neighborhood Watch for the Beaverdale Area.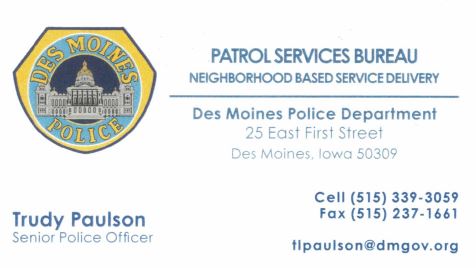 Reporting Suspicious Activity/People to Police
9-1-1 Emergency. (515) 283-4811 Non-Emergency
REMAIN CALM This can be difficult in a panic situation. Do your best to communicate to dispatch.
Start with the Basics

Your Location Police can't help if they don't know where you are.
Description of Person (race, gender, approximate age, height, weight, hairstyle/color, facial hair, scars, odor, tattoos, clothing including shoes)
Vechicle Description if applicable (license plate #, license plate state/county, make, model, color)

Move to Specifics

Type of crime (burglary, theft, assault, etc...)
When did crime occur (approximate date and time)
Where did crime occur (address, cross streets, notable landmarks)

Dispatch may ask follow up questions. Dispatch wants to help. Do your best to cooperate and be patient.
Smart911
With Smart911, you can provide 9-1-1 call takers and first responders critical information you want them to know in any kind of emergency.
When you call 9-1-1, your Smart911 Safety Profile displays on the 9-1-1 screen and the 9-1-1 call takers can view your addresses, medical information, home information, description of pets and vehicles, and emergency contacts. You can provide as much or as little information as you like.
Smart911 is a national service meaning your Smart911 Safety Profile travels with you and is visible to any participating 9-1-1 center nationwide.
For more information, visit: smart911.com