Beaverdale Community Immunity
Filed under "News"
More articles »
---
Thursday, June 10, 2021
The Beaverdale business community is thrilled to announce Beaverdale Community Immunity Cards! Here's how they work: from now through September, anyone who gets their final COVID vaccine shot at one of our participating neighborhood pharmacies will receive a Community Immunity Card. That card can be presented at participating businesses to redeem the following special offers:
Ace Hardware (Beaver Ave.): 10% off any purchase of regularly priced items (some exclusions apply)
Back Country: $10 off a purchase of $25 or more
Backroom Clothing: 10% off a purchase
Beaverdale Bicycles: $10 off a tune-up
Beaverdale Books: 10% off a purchase
Beaverdale Confections: One free handmade Belgian chocolate bar, any flavor
Boesen the Florist (Beaver Ave.): One dozen roses in a vase for $29.95
Christopher's: One gratis glass of Vintners Selection house wine
Curbin' Cuisine: Buy one Basket Meal, get a second half off (dine-in/carry-out only)
The Dam Pub: 20% off individual's meal/drinks (excludes specials; doesn't apply to group tabs)
Grounds for Celebration (Beaver Ave.): One free iced latte, any size
Happy DSM: One Happy Surprise gift bag, plus a coupon for $10 off a purchase of $50 or more
Motley School Tavern: One free After School Snack OR pint of Burr Oak Pilsner
Snookies Malt Shop: One free small cone OR novelty
Uptempo Music: 10% off any purchase
Vinyl Cup Records: $10 off any purchase
The participating pharmacies are as follows, with information on how to get your COVID vaccination at each:
Medicap Pharmacy (2804 Beaver Ave.): Walk-ins available on Wednesdays from 10:00 AM to 5:00 PM, or schedule an appointment online at mymedicappharmacy.com
Price Chopper (1819 Beaver Ave.): Walk-ins available every day, but please call ahead at 515-279-4382.
Walgreens (4415 Douglas Ave.): Go to walgreens.com/vaccine
Community Immunity Card offers expire 9/30/21. Cards must be presented to participating businesses at the time of redemption and there is a limit of one redemption per business. Offers are not redeemable for cash or credit. Participating businesses/pharmacies are not responsible for lost or stolen cards.
Community Immunity Cards are not available to those who have already completed their vaccine course. Only those receiving their final COVID vaccine shot from this point forward will be eligible to receive a card.
Please note that the Community Immunity Cards will not contain any personal information, nor will the participating businesses or BNA be collecting any personal information as part of this effort.
Thank you to our participating businesses and pharmacies! Let's all work together to achieve community immunity in Beaverdale!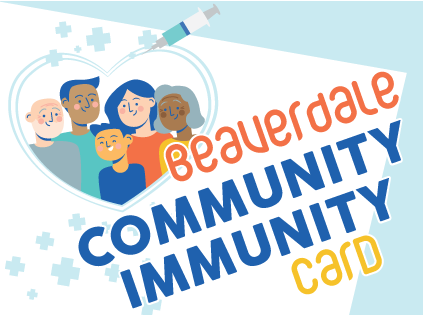 ---
---
Leave Your Comments
We welcome your comments. Please leave your ideas and opinions below.